OUR INSTRUCTORS
MEET OUR TEAM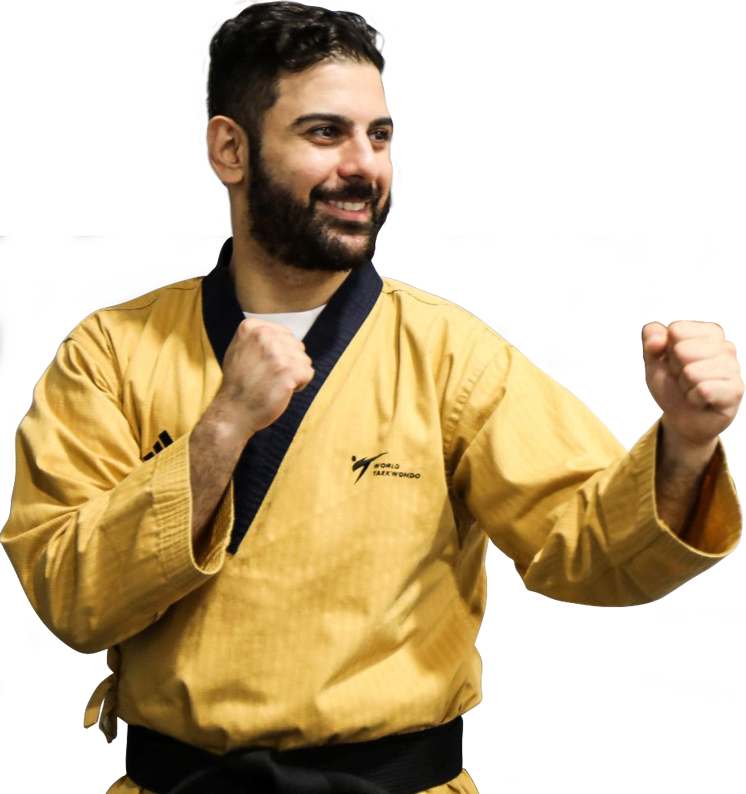 Endurance Taekwondo was established in 2014, by Master Milad Bahrami. Our students range from the ages of 4-70 years old and travel from all over the lower mainland to train with our excellent instructors.
Our Black Belt Instructors here at Endurance Taekwondo are some of the best in their craft; teaching dynamic martial arts classes which seamlessly balance exercise, skill development, and personal development. Through this, we instill a sense of confidence, pride, and motivation in our students so that they will continue to bring out the best in themselves, both in and out of class.
FIRST AID & CERTIFICATION
Our instructors are certified under the Canadian Red Cross Level C Standard First Aid & CPR. The health and safety of our students are a top priority; we're proud to have a team equipped with the knowledge to respond to events from minor scrapes to life-threatening emergencies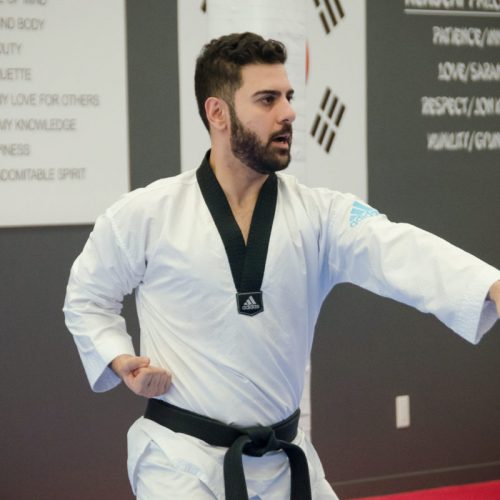 Master Milad Bahrami, like most lifelong Martial Artists, got involved in Taekwondo as a kid who loved watching martial arts movies. His passion only grew stronger during his teen years, as he competed in Olympic Style Taekwondo on a National level.
During University, Master Milad also worked full-time as the youngest Head Instructor of Grand Master Ji Sun Choi's "Choi's Martial Arts". He continued to excel in the role as Head Instructor for Master Tony Kook's Academies: North Shore Taekwondo, West Vancouver Taekwondo, and Bowen Island Taekwondo.
Master Milad's key philosophy is that Taekwondo has something to offer for everyone; Taekwondo is a vehicle for developing your potential. Training will relieve stress, improve focus, and instill confidence that will reflect in daily life.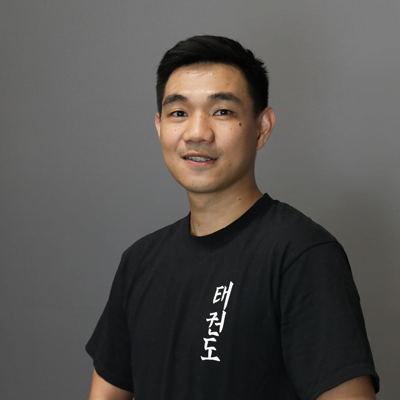 Master Dexter fell in love with martial arts from a young age watching action and martial arts movies. A huge Bruce Lee fan, his training began as he cleaned a martial arts gym in exchange for training. Master Dexter's humble beginnings and life experience have led him to understand and respect people of all backgrounds.
For him, Taekwondo is a way of life, an on-going journey. He believes that applying and following the 5 tenets of Taekwondo (Courtesy, Integrity, Perseverance, Self-control & Indomitable Spirit) leads to a content and rich life. Master Dexter holds a history of competing as a high performance athlete at national and international stages. Along with an impressive teaching experience as a head and senior instructor, he is a 2x Junior National Palarong Pambansa Champion and a 2x NCAA Champion.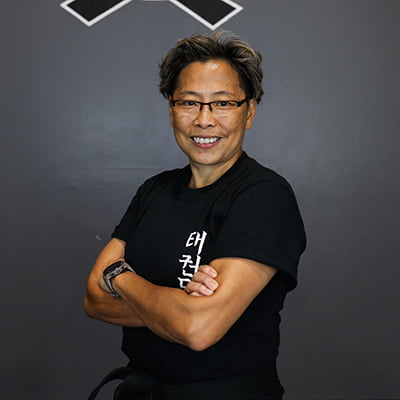 Instructor Belinda leads the Competition Patterns Team and the High-Performance Poomsae Program. She trains students in the proper execution of basic techniques and the understanding of key performance elements. As a high-performance athlete herself, she competes at national and international events. Among many achievements, she had the privilege of representing Team Canada at the 2020 World Poomsae Championships.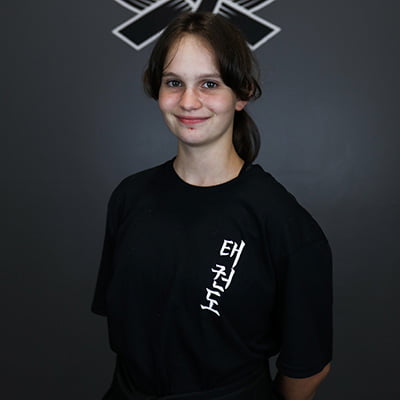 Instructor Rachel was introduced to Taekwondo by her brother, who, after completing a free trial class, immediately was enthralled with Taekwondo. Although her parents thought she wouldn't last more than a month, Instructor Rachel developed a passion for the sport and has been training for close to a decade.
Instructor Rachel joined the Leadership Team in 2019 and discovered great joy in instructing. She was thrilled to be hired as an instructor in 2021. She enjoys connecting with students and making them feel welcome. She especially relishes seeing the smiles on students' faces when they master a technique or learn something new.
Instructor Rachel has been working on perfecting her own Taekwondo skills as a member of the High-Performance Competition Pattern Team. She has competed at tournaments and continues to push herself to become fitter, more robust and healthier in all aspects of her life.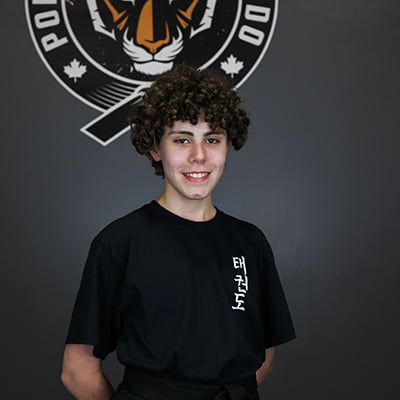 Instructor Sebastian has been in the world of Martial Arts ever since he was 4 years old. Initially training in Karate, he decided that he needed a change after getting his black belt. That's when he stumbled upon Endurance Taekwondo in 2015.

His love and passion for Taekwondo grew exponentially when, on his first day, he met Master Milad. Being promoted to a black-stripe belt on the spot and having to join the leadership team, he was faced with a new set of challenges. This kickstart to his Taekwondo journey made him fall in love with the sport.

Instructor Sebastian has
been devoted ever since, always bringing a fun, welcoming, and joyous attitude whenever he steps onto the mats. Demonstrating his pattern at various tournaments, he strives to perfect the technical aspects of Taekwondo.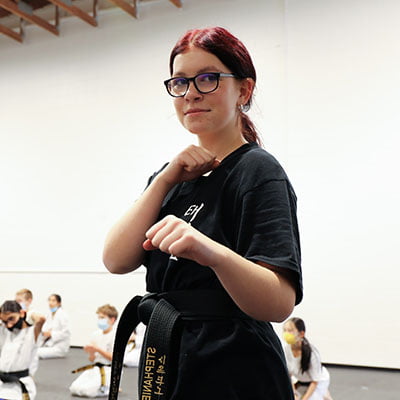 As a beginner and intermediate student, Instructor Stephanie was not very keen on Taekwondo. However, she developed a passion for teaching when she was invited to join the leadership team in 2019. As a leader, she gained teaching experience by volunteering and assisting students multiple times a week. In August 2021, she was hired as an Instructor, further motivating her to improve her skills. When the Competition Poomsae team was created, she was eager to join. She picked up new techniques quickly and was invited by Instructor Belinda to join the High-Performance Poomsae team, where she developed her patterns and brought them to a new level. She later competed in the Korean Consul Cup in late 2021.
Stephanie continues to strive to become a talented instructor and to encourage the students of Port Moody Taekwondo to push themselves to be the best martial artists they can be.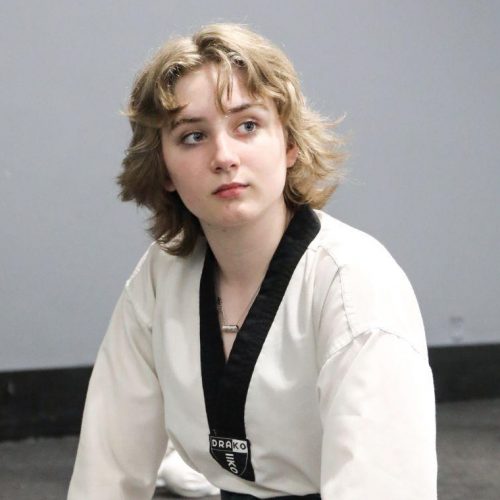 Instructor Molly was first introduced to Taekwondo at the Golden Spike festival in Port Moody around a decade ago. She decided to spin a chance wheel and won a free trial class. From the on, she was hooked.
Instructor Molly started on the leadership team in 2018 and was hired in 2022. She loves being able to make kids smile even on their worst days.
Instructor Molly also did sparring for a few years competitively.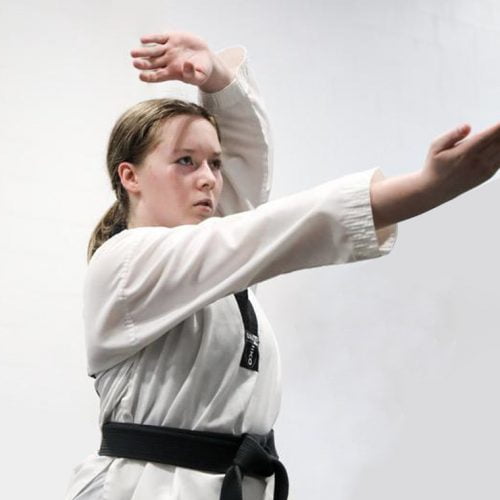 Bio Coming Soon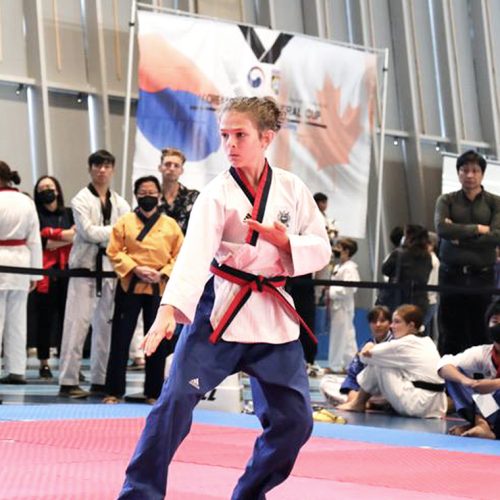 Instructor Alex started Taekwondo at the age of four and was immediately hooked into the Taekwondo community. Once he became an intermediate level student, he started to explore all the different clubs. He tried sparring, blackbelt club and poomsae, but the poomsae club caught his eye and he has stayed with it. After graduating to the black belt program, Alex was then invited to the leadership team where he has developed all of his teaching skills, especially how to welcome the next generation of students.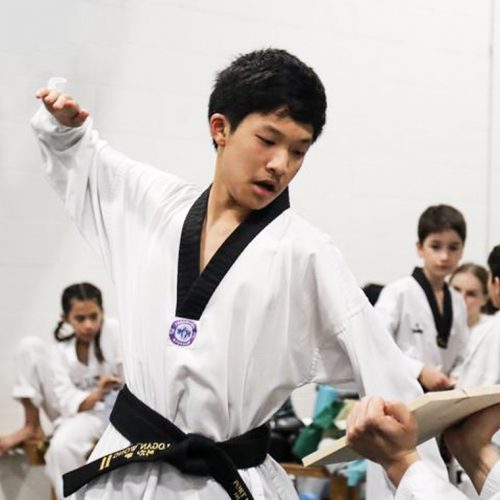 Instructor Logan started his taekwondo journey at a very young age. Originally, he was enrolled in Taekwondo to develop his confidence, but it soon turned into a passion. Instructor Logan is still just as passionate about Taekwondo as he was when he first joined, over a decade ago. Even with many years of experience he is still working hard to develop his skills.
In 2018, instructor Logan was invited to join the leadership team, but took a break in 2020. After rejoining the team in 2021 and refining his taekwondo skills, he practiced teaching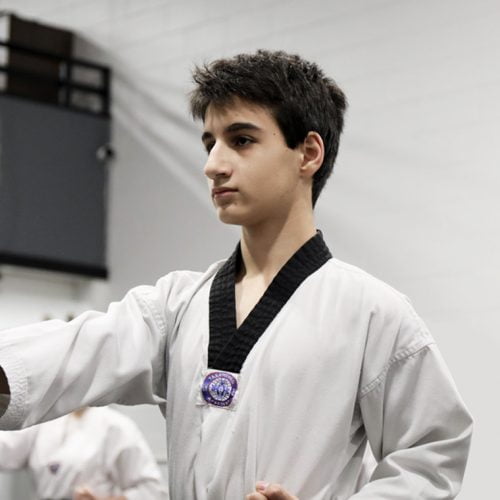 Instructor Iliya joined tkd when he was 5. He wanted to join because after his swimming lessons at a rec center, he saw kids with belts and uniforms kicking and punching, and he thought it would be fun to join. His parents signed him up for tkd and ever since then, he has been training. Instructor Iliya joined the leadership team when he was 9 and he found a passion in teaching kids and helping them with their training. He was hired in 2022, and he's been working ever since to make sure students have all their techniques right. He likes to train to make himself physically stronger so that he can demonstrate techniques at his best.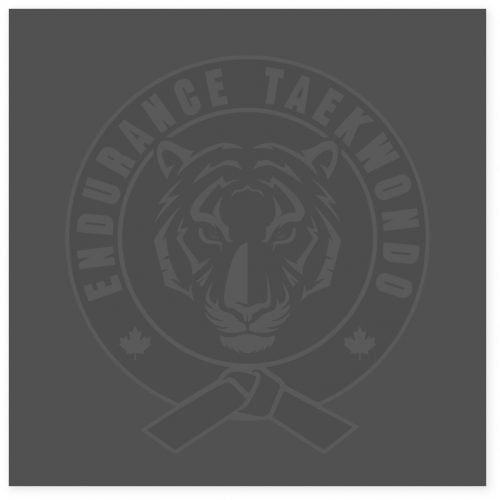 Bio Coming Soon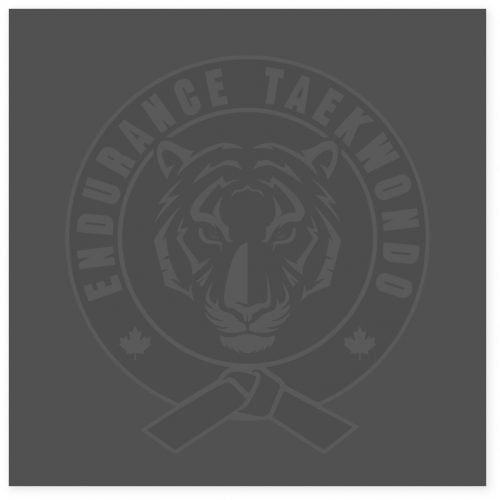 Instructor Thaila has been an instructor at Endurance Taekwondo for around five years and has been doing Taekwondo for 16 years. Instructor Thaila's favourite part of Taekwondo is the fundamentals and basics of patterns. She adores getting to know all of the students, forming unique relationships, and getting to know who they are as individuals. Instructor Thaila appreciates that Taekwondo isn't just about the physical sport but the cognitive development that comes along with it.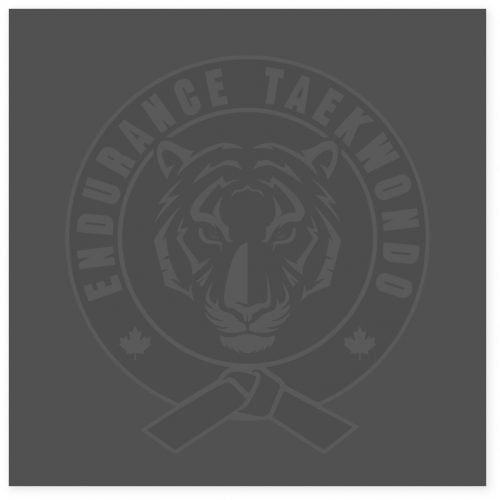 When she was eight years old, Instructor Madelyne enrolled in Taekwondo after being introduced to it by her friends. She instantly fell in love with the sport, which has since helped her develop confidence, communication skills, and perseverance. Furthermore, Instructor Maddy continues to improve her Taekwondo skills through the High-Performance Patterns team and regularly participates in tournaments to challenge herself.
Instructor Maddy joined the Leadership Team in 2021 where she discovered her passion for helping students develop and refine their techniques. In 2023, she was thrilled to be given the opportunity to further enrich her leadership skills as an instructor at Endurance Taekwondo. Instructor Maddy strives to connect with each student and teach in a way that will suit their individual learning styles.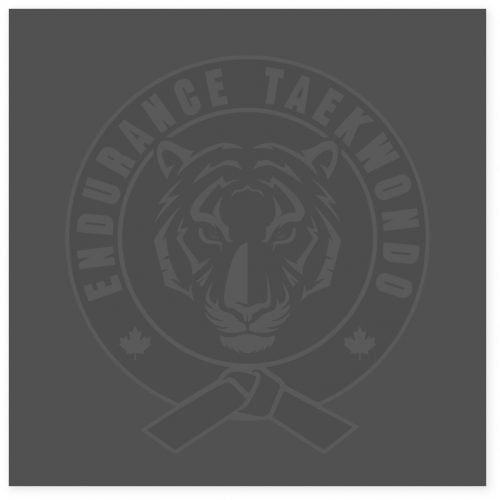 Instructor Roman has been doing taekwondo for around 7 years and has recently joined the team of Endurance Taekwondo instructors. One of his favourite things to do during his own training classes is to focus on practicing kicks to help improve his technique. His favourite kicks are tornado and spinning hook kicks. It's important for him to get a good workout with the friendly participants of the adult class and he always has a good time.
Instructor Roman was hired recently, after volunteering in the leadership team, helping out with spring break camps. His favourite part of teaching is when a student finally completes a technique that they have been struggling with for a long time. When it clicks for a student and they understand the technique, he feels really great about their accomplishment.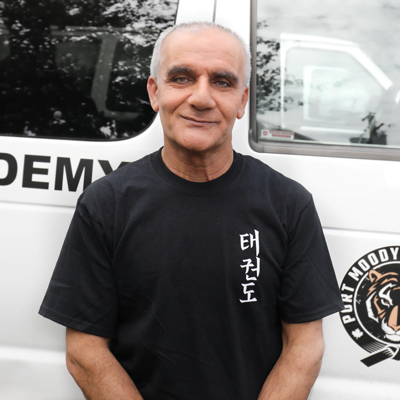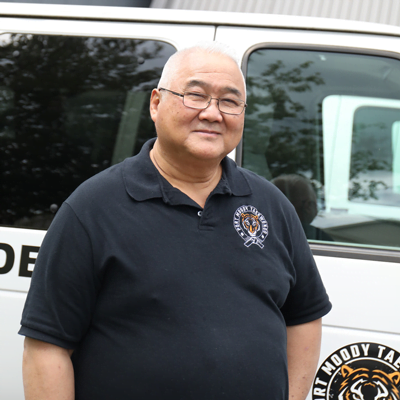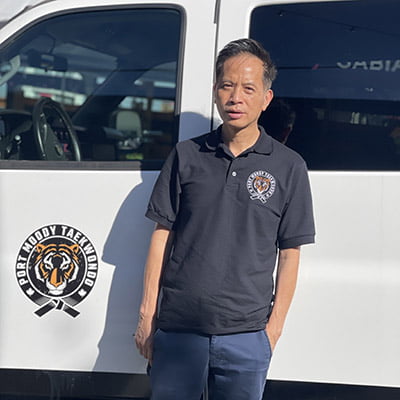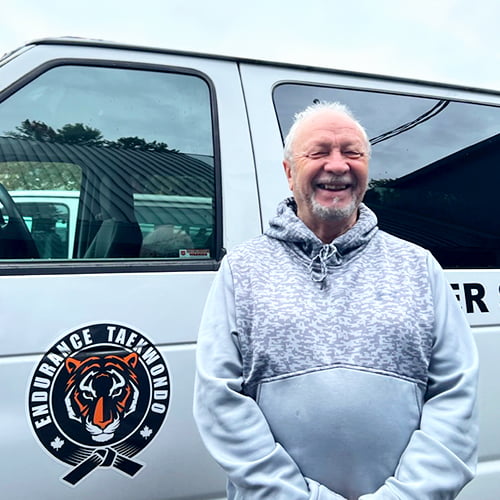 Get started

Free Trial lesson
We offer flexible schedules, world-class Taekwondo instruction, and peace of mind for parents. Our daily pick-up service transports students from school to our facility. Join us for a safe and convenient training experience!
FREE TRIAL LESSON